Adult Content & Porn Age Verification
.
Age verification software allows websites to provide adult-only content by verifying their customer's age.
Age verification for adult content and products.
If you're distributing adult content or selling adult products online, integrating age verification checks is an essential step to take. Age verification measures are important to meet the various regulations and codes of practice that governments across the world place on adult content that may be accessed by underage users.
VerifyMyAge is an age verification solution that enables you to check your users' ages quickly, easily, and seamlessly – resulting in a great user experience and complete legal compliance!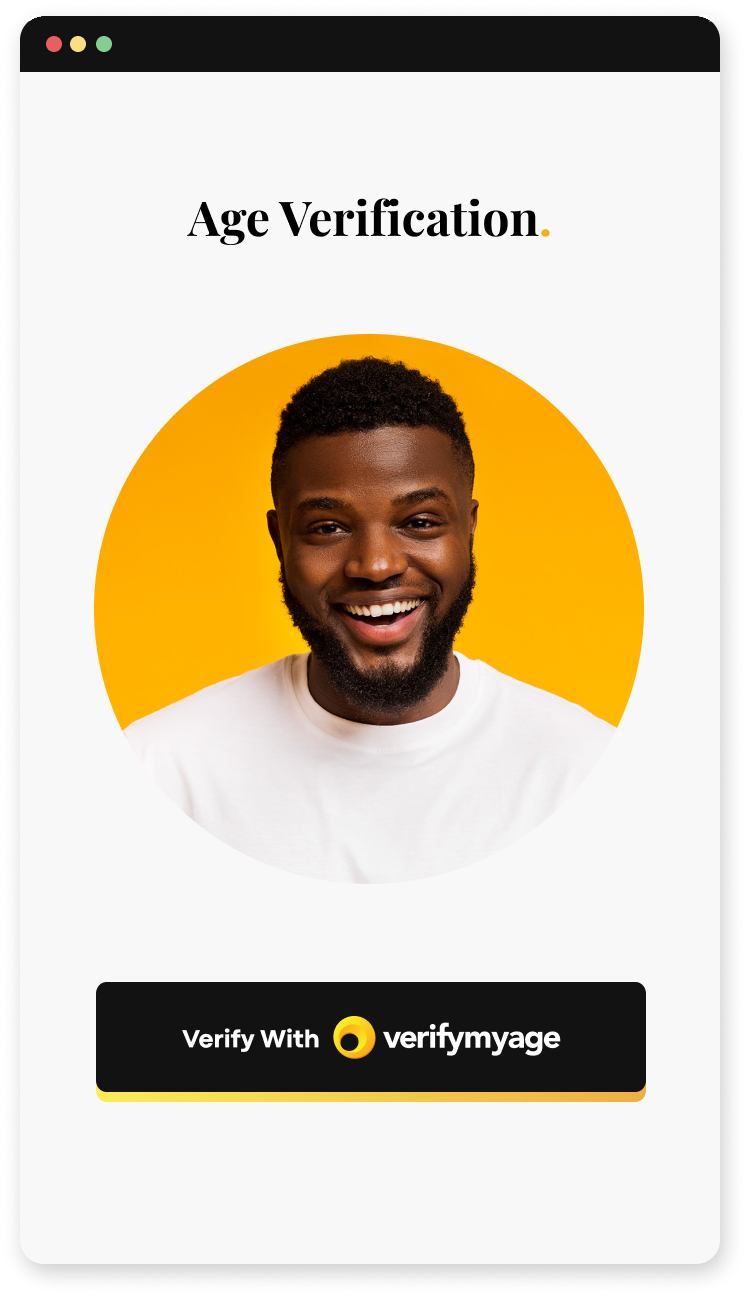 What is an age verification solution?
Quick, simple, and seamless process

.

Age verification solutions – in the form of an integrated app, pop-up window, or information form – confirm a customer's age to restrict or allow access to adult-only content or products. Their main aim is to take the pain out of online age verification and make it a quick, simple, and seamless process.

Easy to integrate

.

You can integrate age verification software directly into your site, whether during the checkout process for online stores or before media playback for adult content sites.

Multi-channel

.

Alternatively, age verification is also available indirectly through email or SMS channels.
Easy to integrate VerifyMyAge for adult websites.
VerifyMyAge was designed to be as simple to integrate with your website as possible. Setup is possible in under 5 minutes and doesn't require any serious technical know-how. You can have age verification up and running on your site quickly and easily, leaving you to get back to focusing on traffic or conversion.
Seamlessly integrated
.
Our age verification solution integrates seamlessly with your website, built into the checkout process or media-viewing experience. That means that visitors see it as a natural part of their site journey rather than a distraction or annoyance.
Customer-friendly and secure
.
VerifyMyAge offers a range of different verification methods for users to choose from – including ID verification, credit card checks, and AI powered age estimation. Thanks to sophisticated cryptographic encryption, your visitors' data is kept safe and secure.
Fully compliant
.
We meet the PAS 1296:2018 Code of Practice for Online Age Verification criteria, meaning VerifyMyAge takes the pain out of legal age verification compliance and keeps you on the right side of the law, all without frustrating your customers.
Multi-platform integration
.
VerifyMyAge integrates with a wide range of popular online marketplace platforms and ecommerce apps. Our integration options include eBay, Shopify, Magento, WooCommerce and BigCommerce.
eBay
Our eBay compatible app seamlessly integrates with your eBay seller account, updating your customers' verification statuses using eBay order notes.
Shopify
Our Shopify integration is the most efficient Shopify age verification solution. You'll be up and running with VerifyMyAge in minutes.
Magento
Our Magento integration is the most efficient way for you to age verify your customers on your Magento powered storefront.
WooCommerce
Our WooCommerce integration is the most efficient way for you to age verify your customers on WooCommerce.
BigCommerce
Our BigComerce integration is the most efficient way for you to age verify your customers on BigCommerce.
API
VerifyMyAge offers a simple and robust API integration designed to be implemented in a matter of minutes.
Porn age verification legislation
.
Countries around the world have codes, directives, and laws that address the need for age verification in adult content and marketplaces.
In the EU, for example, there is the Audio Visual Media Services Directive (AVMSD), implemented in 2020, while in the UK, the Age Appropriate Design Code (AADC) was recently published. This new age of accountability in the digital sector calls for a seamless age verification platform to restrict minors' access to harmful material. Our solution provides adult site owners with an age verification process that recognises the inherent sensitivity of adult websites and ensures compliance with all relevant rules.
VerifyMyAge provides age assurance (age verification and age estimation) while ensuring your customers are not distracted from their purchase or online experience. Our solution can be integrated either directly - within the browser post-checkout - or indirectly through email or SMS.
VerifyMyAge Database
Mobile Phone Number
Credit Card
Voice
Utility Data
Facial Biometrics
Social Media NLP
Open Banking
ID Scan
Credit Header (and other) Data
Email Address Data
Get in touch
.
Have questions? Let's chat.
We're always on-hand to discuss age verification.